Daily, Weekly, Monthly notifications of Keyword Ranking is an important part of SEO progress. Search Console report of Google gives the average position of an article in search engine results. Each page will rank for several keywords based on relevance.
To know the ranking position of your keywords, you need a tool. You can manually check in search engines. But it is tiresome and does not work for batch keywords. You can do the same in Search Console. But as mentioned earlier it gives only the average ranking position for each keyword.
In order to overcome all such problems, SEMrush provides a position tracking tool. Using this tool you can get daily updates on keyword positions for Google's top 100 organic and paid search results.
How to Configure SEMrush Position Tracking Tool
Once you click your site label under Projects, you provided with a dashboard. In it, you can see the "Position Tracking" box. Click the "Set up" button. This will open up the "Position Tracking Settings".
1. Select the search engine – Google or Baidu
2. Select the device – Desktop or Mobile or Tablet
3. Type in your location or ZIP code
4. Enter the Business name for local map pack (optional)
Then click on "Keywords".
There are 3 ways to do this.
Manually
SEMrush
Google Analytics
You can import the file and add tags for each keyword. Sandbox is a feature where all the keywords are added. To add keywords using SEMrush method, you can add the following sources.
 Domain report (organic)
 Domain report (adwords)
 Phrase report (related)
 Phrase report (full search)
You can select the number of keywords from 10 to 200.  Select one of the above sources. Then click on "Add to Sandbox". Then keywords are automatically imported into the Sandbox.
The "Send me Weekly Updates" is automatically checked.
Then click on "Add to Project". You can give a tag for the whole set of keywords.
Click on "Start Tracking".
The maximum number of keywords you can track is 1500.
You can also connect your Google Analytics account. The following permissions are granted to "SEMrush Position Tracking" agent.
Associate you with your personal info on Google
View your Google Analytics data
You have to click "Allow". If it is not visible, scroll the pop-up window a little.
After sometime, if you want to revoke permission, you can do it in Google Analytics admin settings.
Position Tracking is a critical part of SEO campaign. Using free tools will limit the number of keywords. SEMrush provides an easy tool for such work with minimal limitations and extensive data.
SEMrush Position Tracking Features
You can add multiple devices and multiple locations in the position tracking tool.
10 such parameters can be added.
The following views are available under this tool.
Landscape
Overview
Rankings Distribution
Rankings
Landing Pages
Competitors Discovery
Devices & Locations
Featured Snippets
The Landscape view will show the following details.
Visibility
Estimated Traffic
Average Position
Keywords
Top 3, 10, 20, 100
Rankings Distribution
Top Keywords
Positive Impact
Negative Impact
Top Competitors
SERP Features
Landing Pages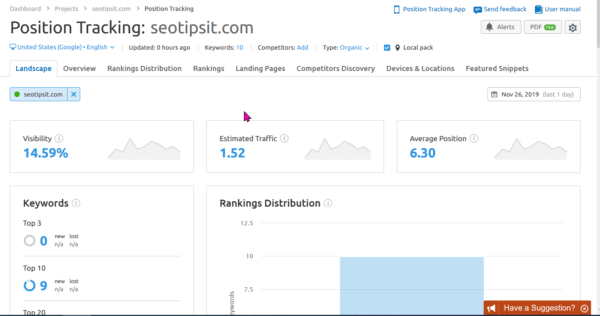 Overview
This view will show the visibility trend, estimated traffic and average position.
The Visibility index is based on click-through rate. It shows the website progress in the top 100 ranking positions of Google from current tracking campaign. A 100% visibility index indicates that all your tracked keywords are ranked #1 in Google SERP. If you get 0% value, it shows that no keywords are rankings in the top 100.
The Estimated traffic is a metric to indicate the probability the user will click on a domain's search result depending upon the domain's position in search engine ranking multiplied by the keyword volume and divided by 30. This is total sum of the estimated traffic for all your tracked keywords.
Average position is the average of all your rankings for the keywords in your campaign. If your keyword is not ranked in the top 100, the average rank is taken as 100.
You can also see "Rankings Overview".  There are 3 tabs in this report.
Positions
Estimated Traffic
Visibility
Under the "Positions" tab you can see the keyword, SERP features, difference in ranking position for different audit dates, CPC and volume. For SERP features, there are few icons which indicate featured snippet, Site links, Video, People also ask, Adwords top etc on SERP.
Clicking an icon will filter the keywords based on that metric.
A gear icon is visible at the top right corner. It is the "Table Settings". You can display the following columns.
Position on the start date
SERP features
CPC
Volume
Additional settings will include –
Show SERP feature icons in ranks
Show tags in keywords
The row height can be normal or compact.
You can filter the table by keyword. Other filters are top positions and changes, SERP features, tags, volume and advanced filters.
Rankings Distribution
This is an overview of rankings of you and your competitors website have in the top 3, top 10, top 20 and top 100 organic results. It will show the Visibility Index, Estimated Traffic, Number of Keywords present in the top 3, top 10, top 20, top 100.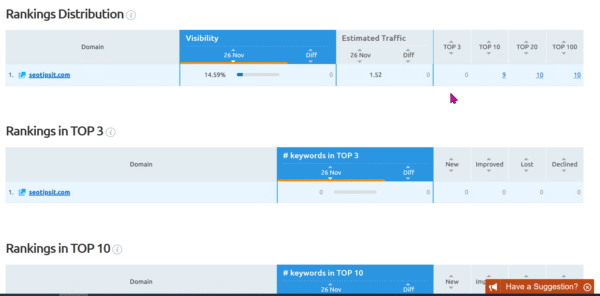 Rankings
This will show the SERP features available for each keyword. The difference in ranking between the earlier crawl and current date is displayed. A trend line which shows the changes in the ranking of the keyword over a period of time can also be seen.
Landing Pages
This report will show the main URLs for which you campaign keywords are ranking. Sometimes a single URL can rank for 10 or more keywords. You can also see the Estimated Traffic, Average Position and Total Volume.
Competitors Discovery
This will show the list of competitors for your domain against your keywords. A competitor map is also displayed. You can also sort them based on top 3, top 5, top 10, top 20, top 50, and top 100 depth. The estimated traffic for each competitor, number of keywords ranked and the average position is also displayed. You can also see the standard deviation of that average position.
Devices and Locations
You can add multiple devices and locations limited to 10. Compare how you perform on these parameters.
Featured Snippets
This will show the following details.
Number of keywords with features snippets on SERP.
Keyword
Volume
Est. Traffic Potential
Your current Ranking Position
Who is in Featured Snippet (organic rank and URL)
Difference between your ranking and Featured Snippet URL ranking
The opportunities available and already featured keywords of your campaign is also mentioned.