Revamped version of SEMRUSH has beastly features of search engine marketing (SEM) tool in 2020. Bloggers, Marketers, SMBs, Agencies benefit from the new updates.
Voice Search, Backlinks, Site Authority, Domain Metrics, On-Page and Off-Page Optimization, Local Business, Ad Profile, Content Marketing are key areas of development.

New Branding
SEM, SMM and SEO products have a new logo and design in 2020. The SEMRUSH symbol has changed to a fireball with orange color. It indicates the energy that fuels the marketing strategy.
Cool and Friendly looking design envelops the brand communication. Sharp Inner edge and Composition display the marketing ins and outs of SEMRUSH.
Change in the site home page design and name. Previously, it was called SEMrush and now it is known as SEMRUSH.
Plans & Pricing
The pricing structure also changed. In the baggage of the SEMRUSH product there are 3 plans that entice the agency or individual.
Pro
Guru
Business
Key improvements are restricted to the Guru and Business plans. However, please check the features page of the plan.  To know whether the feature exists in that plan. Upgrade to the next higher plan based upon your requirement.
There is also a 7-day free trial version of Pro and Guru version to test their features.
All the plans can be billed monthly or annually. The Pro, Guru and Business plan pricings are $99.95, $191.62, $374.95 per month when billed annually. Saving of 16% when you do it this way.
The monthly bill are priced as below under different plans. All the free users who would like to upgrade to any of these plans after 4th Jan 2021, are billed according to this pricing.
Get Plan and Pricing Details of SEMRUSH
Majestic SEMRUSH Changes of 2020
Better Security
Enhanced Authority Score
Site Health Importance
Backlink Analytics and Authority Score
Keyword Overview
Keyword Gap
SERP Features
Google Data Studio Integration
Keyword Import Option
Traffic Analytics
Domain Overview
Backlink Analytics
Backlink Audit
Position Tracking – Voice Search
Cannibalization Report
Site Audit
Local SEO – List Management Tool
Algorithm Changes
Traffic Journey
Market Explorer
Content Marketing Toolkit
Social Media Tools

Internal Analytics
Social Media Ad Management

Agency Growth Kit
Other SEMRUSH updates

Agency Growth Kit
Sellerly by SEMRUSH for Amazon
Prowly + SEMRUSH – Digital PR
SEMRUSH with Yoast
Engaging a blog post can be done with quality readability, originality and user-friendly content.
Update #1 – New Two-Factor Authentication for Extra Protection of Account
In January 2020, SEMRUSH came with a new update to protect the user accounts. Additional code will be sent via email or SMS or Google Authenticator app. This is double protection of your account to make it safe.
Update #2 – Improved Authority Score and Site Health
Before 2020, when you do a site audit, relevancy in the form of Total Score was displayed. The new Site Health score is a great addition to the Site Audit tool. Compare the competitor domains with this score and also the site health with that particular industry average.
Score shows how engaging the content will be when the user reads it.
Update #3 – Significance of Site Health in Site Audit Tool
Site Health Score is based on the total number of errors and warnings analyzed by the SEMRUSH tool. This is a score between 0% to 100%. It is important to reduce the number of errors. This will have better performance on your Site Health score.
Update #4 – Check for Authority Score in Backlink Analytics
Total Score was a conglomerate of several scores of Domain Score, Domain Trust Score, Page Score and Page Trust Score. Authority Score is an indication of the power of backlinks pointing to your site.
Using this score you can trust the efficiency and power of domain backlinks pointing to your site. This score is also based on 0 to 100.
Update #5 – Larger Information with Keyword Overview
Instead of the Keyword Analyzer, we see the Keyword Manager. Potential to collect keywords not only from Keyword Magic Tool, but also from other tools. Keyword Manager is integrated with Positions and Position Changes in Organic Research.
Keyword Research is necessary to make the content optimized for search engines.
100 Google SERP results and Bulk Analysis feature. Show the backlinks, referring domains, search traffic, keywords for the referred URL.
Update # 6 – Find Competitor Information with Keyword Gap Analysis
Semantic and Related keywords determine the article focus on a keyword. User Experience and Intent will be enriched by including these keywords. This can be done with the Keyword Gap Analysis.
Compare keyword groupings by sub-folders and URLs. Keyword Overlap graph will present how your keywords compare with other competitors. How many of them they are targeting and you are missing?
Compare up to 4 different competitor domains with yours to find keyword groupings based on "missing", "shared", "unique", "strong", and "weak" filters.
Update #7 – SERP Features in Organic Research
A new column was added to the Organic Research report to show the list of SERP features like featured snippets, knowledge panel, Q&A, star ratings, videos for a particular keyword. User active reading time can be reduced with powerful images and videos.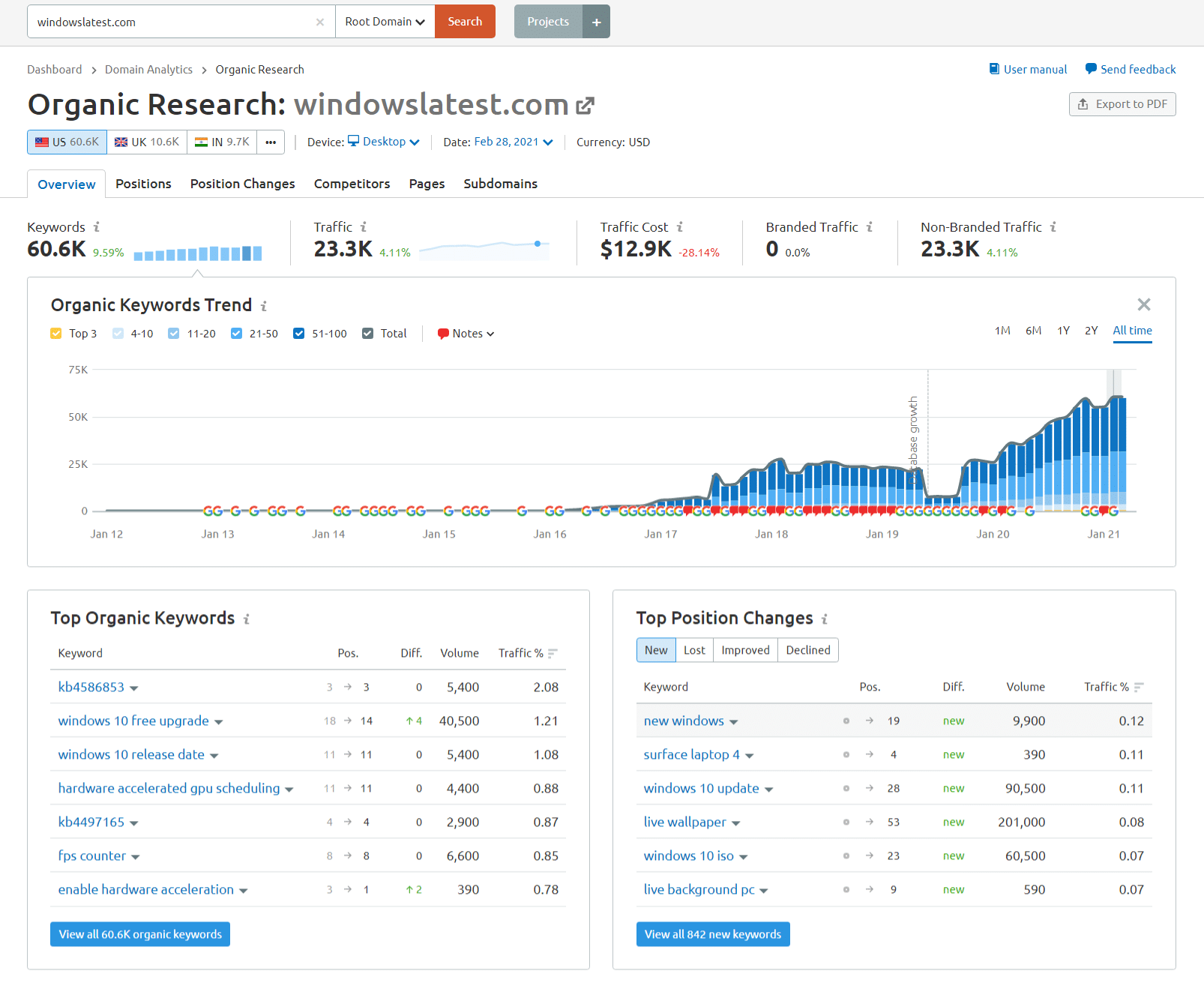 Update #8 – SEMRUSH Integration with Google Data Studio
The linkup between Google Data Studio and SEMRUSH. Online Experience can only be enhanced with responsive design and keeping upto-date with the latest trends in that niche.
Two connection points for Domain Analytics and Position Tracking. Custom reports can be created using Google Data Studio and SEMRUSH helps them improvise them.
Update # 9 – Position Tracking and Keyword Import Option
Effectiveness of your SEO campaign with keyword position tracking on a daily, weekly and monthly basis.
Correlation between users active is a clear indication that visitors like your service, app or website.
Update #10 – Traffic Analytics with better Competitive Intelligence
Speed and the Article loading time play a major role in keeping the visit duration to a maximum. If it's slow the visitor has a tendency to leave the app or site quickly.
This visualization makes it easier to know where the traffic is coming from to the most valuable pages on your site. You can make certain amendments or run campaigns to improve the source of traffic.
Update #11 – Global Information of Sites with Domain Overview
Sub-domain and Sub-folder analysis of a site are important if the competitor site is targeting a particular keyword on this path.
Compare features can analyze the traffic and domain metrics for up to 5 competitive domains.
Update # 12 – Backlink Analytics for Page Rank Growth
Cross-check and Compare the backlink profiles of your competitors. Outreach that particular website owner and ask for a guest post or backlink in-return for a valuable resource
Broken Link Building is another technique that can be useful with Backlink Analytics. You can find all the 404 pages that a particular site has and find the relevant backlinks pointing to that site.
Update #13 – Efficient Toxic Score with Back-link Audit
Backlink-Audit gives the back-link profile of your site. It will tell you the bad links that are pointing to your site which were reflected in the "Toxic" score.
The new Target Pages Report provides in-depth analysis on active, broken, new and lost backlinks. The Toxic Score feature is also more accurate and advanced.
Update #14 – Share of Voice in Position Tracking
Share-of-Voice is a new feature which connects selected keyword's search volume and estimated traffic. Position tracking is influenced by the site keyword position in the Google search results.
The below YouTube video describes the key 10 SEMRUSH updates that occurred in 2020. It will give a brief overview of all the features that SEMRUSH provides. After a small introduction by myself, you can see a detailed description of the top 10 updates that occurred in 2020 including Share-of-Voice, Cannibalization Report, changes in Keyword Overview and Gap Analysis, Traffic Analytics, Site Audit etc.  
Update #15 – Cannibalization Report and Extra Features
Cannibalization Report will tell whether any two articles of the same site are competing against each other. This is for the same keyword in search engine rankings.
Devices & Locations report can be useful to compare the keyword target position and your seo efforts at a country, city, region level and its benchmarks.
Update #16 – Greater Vision with Strong Site Audit
Site Audit now allows a better picture of errors and warnings. Priority items to be improved.
Markups report will give an accurate score of your site. Improve organic rankings. Structured Data items like schema markup, twitter cards, open graph, invalid and valid structured elements are mentioned in this report.
Update #17 – Improve Local Business with List Management Tool
List Management Tool helps in submitting your articles to the right directories. This will improve voice search optimization and help find the local users of the nearby businesses.
The following widgets – location status, directories distribution, location status-map, incomplete profiles, local reputation, duplicates, and suggestions are the new changes in the Local SEMRUSH 2020 update.
Update #18 – Traffic Analytics with Algorithm Improvements
Much awaited feature provides performance metrics of the site.
Division of top driving traffic channels
Paid and Organic traffic
User intent metrics
The traffic estimate algorithm is so exact.  Search volume of traffic at subdomain level analysis for different reports.
Update #19 – Traffic Journey Report
This report shows the traffic incoming and outgoing from a particular domain. Useful for remarketing strategies and helpful in conversion affiliate sales. Helps reduce the bounce rate. Sales funnel can be clearly visible.
Update #20 – Market Explorer to give In-Depth Market Information
Market Explorer makes sure you take key decisions. Intelligent information from industry trends and key benchmarks. The top brands in your industry and their percentage share of traffic.  In-market audience profile marking helps this make wonders.
Benchmarking Report for market competitive intelligence. By comparing 5 domains related to traffic volume, source, difficulty, health score etc.
Update #21 – Content Marketing Toolkit
SEMRUSH does not stop at analyzing a domain or keywords. Content Marketing Platform is helpful to writers and bloggers. Marketers can create content and manage different tasks using Toolkit that is in-line with audience readability.
Topic Research.
SEO Content Template.
SEO Writing Assistant.
Brand Monitoring
Content Analyzer
Marketing Calendar
Some of the above tools make the task of search engine optimized content a reality. Using SEO Writing Assistant and Template you can create a brief overview of the content based on the top search results in search engines. WordPress and Google Docs users also have a plugin and add-on that adds a beneficial facility to check the quality of the content.
Get 7 day Trial to Content Marketing Platform
Score is displayed based on Readability, SEO, Tone, Originality. Major recommendations are given to improve the quality of the content. This way you can make sure that it is more reachable to the search engine and social marketing visitors.
Update #22 – Social Media Tools
Social Media Analytics and Social Media Ads tools are two powerful social traffic tools to understand the following of your content and brand. Using the analytics tool you can understand the number of followers, reach, votes, testimonials, and engagement metrics to know the social publicity of your site's influence
Update #23 – Agency Growth Kit for Enterprises
Agency Partners Platform is a special place where agencies can show their proficiency.
Advanced Reporting capabilities with Agency Growth Kit.  Agencies can report back with customized options –
branding
white label
footers
headers
styling
minimalistic reports
Update #24 – Other Features
The affiliate income from Amazon sales is an important revenue for sellers of its products. Through Sellerly they can utilize different tools to enhance their product listings.
Prowly public relation company has access to 1 million journalists and brands. It also has connections to CRM software, newsrooms, email newsletters and PR analytics.
Yoast is a powerful SEO plugin for WordPress with more than 5 million users on WordPress. SEMRUSH keyword analysis linked with this plugin.
Thoughts on the Latest Updates …
New features of SEMRUSH 2020 updates are addition to the existing SEM marketing tools.
Agencies can benefit from this marketing platform.  Customized reports for their clients. Other new features and Content Marketing Toolkit are useful for bloggers.  Weak in language proficiency and get quality articles at a lesser price.
In all, these 2020 updates will bring the consumer more near to the SEO Master.
Note:
Affiliate links to some SEMRUSH products are provided through images and text. No extra charge. No additional fee. Same Cost and Benefits. Small revenue to the owner when you purchase through these links.
Image Source: semrush.com