The influence of links, DA, PA is very high for ranking in Google. As we know these inbound links have to come naturally, so that Google considers them as good. But in 2017 era, it is highly difficult to get such backlinks. So we generally resort to link building tactics through guest posts, infographics, sponsored posts etc.
One interesting point is that all links are not created equal. Most of the big sites have high authority profile links from big DA domains. If your articles are well promoted in PR pages, submitted to good directories, referred by .edu domains, naturally you will get high Moz DA. But the game does not end there.
Read More : How To Increase Adsense Earnings in 2017 By Finding the Right Categories to Block?  
How to find Backlink Profile Date from SEMrush?
As we know we have different SEO tools like SEMRush, Ahrefs etc, where we can find the competitors for a particular site. In SEMrush it's so easy that you just put in the website URL and you will get a list of competitors. Once you click an competitor website you can easily get its details like organic search, top organic keywords, competitive positioning map etc.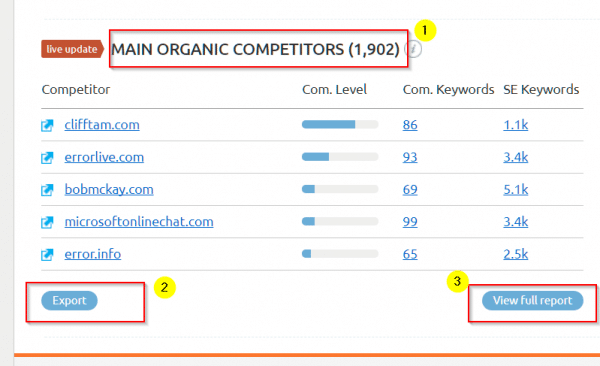 At the same time, if you click on Backlinks on the left hand side, you will get the inbound links pointing to your competitor. This is generally useful to know your current link profile status. But it has some shaddy practices. Once any site owner knows his competitor backlinks, he may try to build some low authority links to the competitor site.
SEMrush also has a feature known as Backlink audit. Under Projects, it is one of the options. You can configure them individually. The first mentioned feature is one of them. You need to add your site to Projects and then connect your Search Console account. Then it will ask for authorization checks like parameters for "Pages crawled per day" and you have to provide. Once its final, the SEMrush tool will go into a background process to find the backlinks to your site.
Finally the result is produced with the following metrics –
1. Referring Domains
2. Total Backlinks
3. New
4. Lost
5. Overall Toxic Score
6. Audited Backlinks
How Toxic Backlinks can Affect your Google Adsense Earnings?
The last two parameters above have good influence on your Adsense returns. SEMrush has this metric Toxic score assigned to each backlink. The rating is from 0 to 100.
The least is the toxic score, it is a good backlink. It is also colored green to show its good. But as the toxic score increases, the color changes to grey. Finally, if they are high toxic, it is shown in red.
My Experience with Adsense Earnings and Toxic Backlinks?
We have a tool in Google called "disavow" tool. Generally, when you find such high toxic backlinks, you need to contact the domain author and ask them to remove them from their site.
But even after persistent messaging, if they are not removed, then you can disavow them. This is like asking Google to "forget" or "neglect" the influene of such bad backlinks.
The toxic score is based on a complex formula and generally is a very good indication of how good, bad, medium type are your backlinks.
Read More : How To Increase Adsense Earnings in 2017 By Finding the Right Categories to Block? 
So using the disavow tool, you can add the bad domains and links asking Google to neglect their influence, using a txt file. They are not actually deleted, but not counted in your SEO score.
As you can see, I have changed my disavow file on 28th Oct 2017.
I have been using the SEMrush tool for over 2 years and the BackLink Audit feature for over an year. So whenever I find high toxic backlinks I disavow them.
This way my backlink profile is kept clean.
With my observation, I found that the traffic didn't much increase even after disavowing bad links.
You also have a provision to download your previous text file uploaded to the disavow tool.
So recently I downloaded the old version of backlink txt file and removed all the domains and links which are considered for neglect in the SEO rating.
My Case-Study on Influence of Toxic Backlinks on Adsense Revenue?
Then my Adsense earnings plummeted immediately.
I was normally getting like $3 to $6 every day when I have the backlinks in the disavow list. But when I removed all the domains and links from disavow tool, my Adsense earnings dropped to below $2.
So initially I thought that it was some other reason due to which my earnings reduced. So I did not do anything till one week.
But since my Adsense income were not increased, I uploaded the old disavow file again on Oct 28th , 2017. Immediately my earnings started to increase again.
As you can see above, there is change in trend of adsense income from the date I changed my disavow file. Earlier when I removed all the domains and links in the disavow file, my daily earnings reduced. Also, the RPM and CPC reduced after I removed all the toxic domains and links. Once I uploaded the old file with bad profile data, they increased again.
Conclusion
So with my case-study, I think that bad toxic backlinks have an influence on your Adsense earnings.