Things of SEO can be done manually with an excel sheet. But using a tool, will make things easier. As you know, just publishing an article won't bring you traffic. Also applying some "black hat" techniques will only work for some time and some sites only. SEO is a continuing changing process which you need to update yourself. Also the techniques used for Google won't work for Bing or Yandex.
Today we are going to see a feature in an SEM tool which is going to help you bridge the gaps in SEO. It is called the Projects feature.
First you need to add your website to this feature by clicking the button "Add New Project".
It will ask for "Project domain" and "Project name". Then a Dashboard is created for you consisting of the following modules.
Site Audit

Position Tracking

On Page SEO Checker

Social Media Tracker

Social Media Poster

Brand Monitoring

Backlink Audit

Link Building

PPC Keyword Tool

Ad Builder

Organic Traffic Insights

Content Analyzer
The above are the tools using which can develop your site into a branded one. Though some of the things require some money to be spent, others just need to be done on the site itself.
For example, everybody knows that links to your site or pages are very key for your post ranking well in search engines. Google prefers the links to come naturally. But for SEO beginners, you cannot expect the links to come by themselves.
You have to create some noise, before your post becomes viral. That is what makes your post looks significant in the eyes of Google. Other easy parts of the Project could mean improve your existing content. One of the modules will help you modify the post, so that it includes semantic rich keyword and produce high-quality articles in par with the top ranking ones.
In this post, I'm going to explain how each module helps a SEO blogger or beginner improve his site with the following elements. Initially you have to set up each module individually. This is done very easily. You need to provide some input required for each tool and the rest is taken care of by the SEM service.
1. Site Audit
It's important after you pubish your post. It gets indexed by Google and other search engines. For this part you need to submit your new posts in the Search Console (which was previously called WebMasterTools).
In this module, once you submit your site map, it starts crawling all your pages and posts. This makes sure that that search engine bots have crawled and indexed your site articles. Also if there are any HTML, JS, CSS errors are also checked. Is your site theme properly coded for SEO or not is also checked here. The amount of internal and external links present in the site post, also given indication of the relevance of links in SEO.
Finally, the health score is displayed.
2. Position Tracking
This is one of the data that a SEO beginner needs to track from time to time. But if you do it manually it will take lot of time. But this SEM tool in the Projects feature made it easy by adding some keywords and reporting the ranks through email.
Based upon your requirement, you will get a mail daily or weekly or monthly of the rank of your post for a particular keyword you added. A red down arrow indicates that the rank has decreased and by how much, while a green signal indicates an improvement. This way you can make sure whether your SEO campaign is giving results for a particular keyword or post.
3. On Page SEO Checker
There are two types of SEO when it comes to page optimization. 1. On-Page and 2. Off-page. The second one is related to the links pointing to the site and article pages, which may not be totally in our control. But the On-Page SEO optimization can be done by ourselves.
Instead of manually checking each item of what is relevant and what to improve, this module gives a complete and structured list of things that can done to improve search engine optimization of your site pages.
4. Social Media Tracker
As we mentioned earlier, the noise your article makes around the web is very important. Though social signals are not that much relevant in Google eyes, but it has some part to do with ranking. Also, if you get social traction, they are more likely to link to your page.
This module will let you track social audience, activity and engagement of your site in Facebook, Twitter, Google+, Instagram and YouTube. For example, in a week how many times your article submission was retweeted or liked or +1 can be known at one place, instead of checking at each social media platform.
You can also make sure whether your competitors in the search engine rankings are having any social interaction and how many likes, retweets etc are they getting.
5. Social Media Poster
The earlier one is about collecting data after you posted in a social circle. But to post to different platforms like Twitter, Facebook, Google+ etc. takes lot of time, if you are lone blogger. This tool will help you automate and schedule posts across major social networks. This will save time on social managing. It also analyzes your content and let's you know which is best for better social interaction.
This will help improve performance of your article and site.
6. Brand Monitoring
This is especially useful for SMB owners. For example, if you have a product or service for sale and you are blogging about it on your own blog or others. You need track whether this product or service is getting a brand name through the mentions in the social tools or on the web.
For example, if there is a product like Apple iPhone and you have written some article related to a casing of that mobile phone. Now to check how many mentions of the product are mentioned on the Internet is a difficult task. But this tool crawls the internet and find the mentions of your product at one place. It also helps gather data about your competitor product like a Samsung Galaxy 8 casing getting how many mentions.
7. BackLink Audit
This is a very crucial part of your SEO campaign. For example, if your site is getting lot of organic traffic, your competitors might try to reduce it by linking your articles from low ranking sites or spammy sites. This makes your site of low DA or value in the eyes of Google.
So this tool gives an audit of all the links pointing to your site and inside pages. This will show how many good links, bad links are pointing to your site. Then you can use the disavow tool of Google or contact the owner of the website to remove the link pointing to your site.
It is very much easy. As you can just collect all the domains and links and submit as  text file to disavow tool.
8. Link Building
One of the most important SEO factors that still reign the Google rankings is the number of quality backlinks from good authoritative sites. If you can analyze your competitors and know from which sites they are getting their links, this makes it easy to contact the web owner and request a guest post to get a link.
9. PPC Keyword Tool
This tool is important for big brands and owners with some money to invest. As you know Google shows some ad postings on top of the organic listings in the search results. For this you need to bid on some keywords using the Google Adwords tool. Also you may find another network where you need to bid for PPC (Pay per Click) ads.
Generally, when certain action suggested by advertiser happens after clicking an ad that much amount per click has to be paid by the advertiser. For this you need to create campaigns to show the impressions of your ads for different keywords and regions.
10. Ad Builder
This is the new tool that is added to the Projects arsenal. It helps you create compelling ad texts. Generally image and video ads are more attractive in the eyes of the visitors. But many products get sales for text ads also. So this tool will help to analyze your competitor's ads, preview your ads. It is also helpful in assigning the newly created ads to existing keyword groups created in an Ad campaign etc.
11. Organic Traffic Insights
Since some years ago, Google is not providing all the keywords for which your site posts are searched. These are called "not provided" keywords, for which you don't see any data in the Google Analytics web tool. But you can see the "queries" list in Google Search Console, for which your pages are ranking and how many times they appeared in the search results.
All this data can be seen at one point by connecting your GA and GSC accounts and see the actual organic traffic driven by them.
12. Content Analyzer
After all, you think that you have written your content very well. But is it in par with competition of other competitors articles are not can only be told by Google. Since Google ranks content based on lot of factors, it's not easy to find those. But the Content Analyzer tool of this SEM tool will audit your domain content and track your guest posts to pin-point which content is getting more clicks in the search results.
Also what changes need to be done to the existing content, so that it give high-exposure can also be said from the suggestions given by this tool.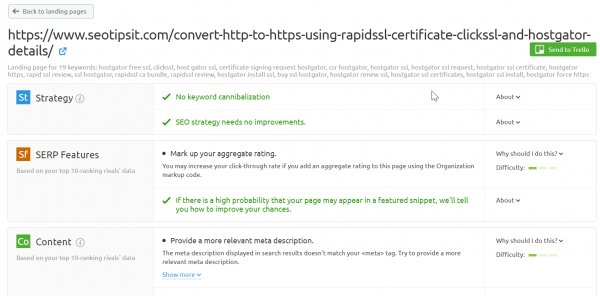 Conclusion
The above tools are part of the Projects package of the SEMRush tool. If you want to try this tool and find the SEO improvements, you can get a free trial using the link below.
http://www.seotipsit.com/recommends/14-day-trial-of-sem-tool/ 
This will help you test the product and if you like it you can subscribe for a few months more.