Rank Math is a new SEO plugin in the WordPress town. In the last 6 months it has updated itself and made major changes. The latest version is 1.0.30.2. You can download the plugin from the author website or from plugin repository.
In 2018, I faced some difficulties with this plugin regarding Redirection and importing meta data to other plugins like Yoast. I reviewed Rank Math plugin sometime back, when it was in nascent stage.
As a user of this plugin on couple of sites, I felt that this plugin slowed down my WordPress dashboard panel.  I was not sure how it impacted the speed of web pages.
Rank Math Plugin – Test Case Study
I used a test website with 5 webpages to test whether Rank Math is causing any speed performance issues. As we know usage of several WordPress plugins may slow down the site. Sometimes the issue can be caused by a single plugin.
It is important to know which plugin is causing slow page loading time and make necessary changes. Some times the code of the plugin is at fault causing security leakages and resource overhead.
The following WordPress plugins and themes were used on this site.
Thesis & Current Skin
===========================
Thesis Version: 2.9.4
Skin Name: Effectus
Skin Version: 1.2.3
Skin CSS: YES → 40.6kB on 07/30/2019 at 07:14:55
Skin Custom CSS: NO
Skin Custom PHP: YES → 0.4kB on 06/28/2019 at 16:24:45
Thesis Skins and Boxes
===========================
Installed Skins: Classic Responsive, Effectus
Installed Boxes:
Active Boxes:
WordPress
===========================
WordPress Version: 5.2.2
Filesystem Method: direct
Using Multisite: NO
Active Plugins: Accelerated Mobile Pages, Akismet Anti-Spam, Classic Editor, Lightweight Subscribe To Comments, Contact Form 7, Cookie Notice, EWWW Image Optimizer, kk Star Ratings, Limit Login Attempts, Rank Math SEO, SG Optimizer, Wordfence Security, WP Review Pro, WP Shortcode Pro by MyThemeShop
To test whether Rank Math is causing any speed issue, I tested a web page on three page speed testing tools – GTMetrix, Pingdom Tools, Google's PageSpeed Insights.
Page Speed Performance with Rank Math Active
I am already on SiteGround hosting and using GoGeek plan. As a benefit, the hosting provides a caching plugin called "SG Optimizer" to speed up your site.
This is an useful cache optimization plugin and works with SiteGround hosting only. I am using SG Optimizer and Cloudflare free version to speed up my site.
The page loading time with Rank Math plugin active was 3.2s, 1.48MB total page size and 72 requests were loaded. The PageSpeed Score was B(83%) and YSlow Score was C(75%). This was using the GTMetrix tool.
The page speed of the same web page was 2.90s with page size of 1.8MB and 78 requests. This result was from Pingdom tools.
The mobile pagespeed score was 77 and desktop score was 72 when tested with Google's PageSpeed Insights testing tool. The first meaningful paint time was 1.9s and Speed Index was 6.2s in mobile version.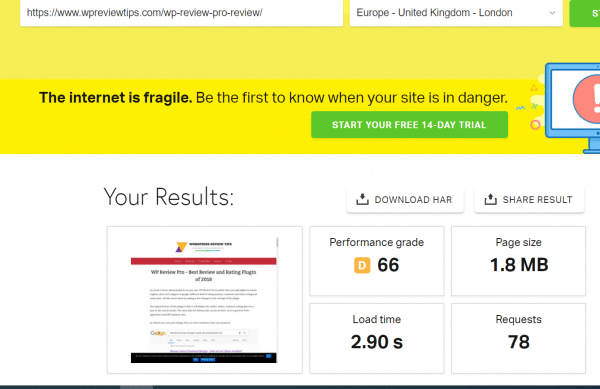 The desktop results show that the first meaningful paint was 1.2s and speed index was 3.8s.
Rank Math Deactivated – Any change in Page Loading Time
After clearing the cloudflare, sg optimizer and browser cache, I tested the same web page with different testing tools mentioned above. The following were the results.
1. GTMetrix tool reports page loading time of 3.0s and 1.44MB page size and 71 requests. The PageSpeed Score was B(83%) and YSlow Score was C(75%).
2. Pingdom Tools test result shows that the page loaded in 1.53s, with 1.7MB page size and 77 requests. The performance grade was D(67).
3. Google's PageSpeed Insights tool reported a mobile score of 82 and desktop score of 87. The first meaningful paint time in mobile version was 1.9s and speed index time was 5.6s. The desktop version of the same parameters were 1.1s and 1.9s.
Conclusion
From the above test results we can observe that GTMetrix did not show any difference in page load times when Rank Math plugin was active and inactive. The website page speed was around 3.0s using this tool.
But Pingdom tool showed a marked difference when Rank Math was used and not used. There was 90% difference in page load time when the plugin was deactivated. The page loading time decreased by 1.4s on deactivating the Rank Math plugin.
The major improvement in page speed can be seen in Google's tool. Both mobile and desktop results produced a score of above 80 when the plugin was deactivated.
More websites and web pages are required to get conclusive evidence of speed performance of Rank Math plugin. In this case-study, we can say that there is an increase in page load time (though not much), when Rank Math was active compared to deactivated state results.