The keyword article generator software is a must for bloggers, writers, and social media composers. User intent for search queries is relevant in today's search engine results. WriterZen review focuses on those aspects where seo, content and marketing can be optimized.
Only content that answers the buyer's intention or information quest seen in the top 10 search results.
Free blog content generator should fulfill specific criteria to make a unique tool. It should be easy to understand.
Divide the content strategy plan among team members. You can do unique article writing manually.
Unless a writing assistant supports it, it will not reach search engine user metrics and standards. Content is always king. Only when optimized for the searcher's query can it stand the best of times.
Also Read – SEMRUSH SEO Writing Assistant – How to Write Perfect Content
Website Content Generator
WriterZen is a new form of website content creator with support for various tools. Content Creator is the leading resource of this article creator software.
Article Generator should have semantically relevant keywords and clusters.
Unique content generators like WriterZen can analyze your content using the NLS algorithm.
Also Read – SEMrush On Page SEO Checker Tool for Optimization Ideas
The first stage of a website content generator should be able to find relevant topics related to the blog's niche. WriterZen being an article generator online, you can easily save all the changes.
The content generator can help find the loopholes in your blog post. WriterZen allows you to decide which keywords to include in your content based on relevancy.
Also Read – 8 Features of SEMrush Position Tracking Tool in 2020
It also determines some of the second seed keywords based on the primary keyword.
Insights will analyze the top 10 search results of Google based on location and language.
The number of times related keyword used in the article as heading or content counted.
Also Read – Keyword Research Using SEMrush – 3 Intuitive Ways To Improve On-Page SEO
In this review, we will see the details of WriterZen as an article generator for professional writers and deep learning writing enthusiasts.
WriterZen Review – Topic Discovery
Discover all the hottest hot trends and headlines, fully understand customer concerns and uncover the best title from content gap analysis
Click on New Topic.
Enter the seed keyword, country targeting, language. Click on Search.
The history of previous topic research shown below.
Data collection will start.
Results of relevant topics displayed.
Search volume for the main subject also shown.
Choose the relevancy of topics – closely, medium, widely.
Display in grid mode or spider net.
Export all the topic ideas in XLS format.
Click on Show Ideas to discover headlines; google suggest insights, related google searches, and many others.
You can also learn how to use topical research in your content management plan.
Also Read – LSIGraph Review – The Best LSI Keyword Research Tool [Feb 2019]
WriterZen Review – Content Creator
Set up structured standard SEO content, build content from an endless source of ideas, easily share requirements for collaborators, and manage content originality.
There are 3 steps.
Outline to use
Keywords to include
Content Writing.
You can start your content creation process with the seed keyword. This writerzen review focuses on creating topic ideas and relevant content for bloggers. You should be able to form headlines first and then fill the gaps with seo paragraph generator.
Also Read – How to Increase Adsense Page RPM to $10 in 2020
WriterZen Review – Artificial Intelligence Writer
Click on New Project.
Enter Project Name, Location, and Language.
Enter Seed Keyword, Writer's name, Priority, Deadline, and Note.
The first four are mandatory.
The Content Creator will start collecting data.
Competitive analysis shown.
Percentage of articles on the first page of Google.
Better the metric, essays will have more tendency to rank higher.
The top 10 search results with their word count displayed.
Content Structure and optimal word count details given.
Build your outline by adding an H2 title, description, body.
Click on Save & Setup keywords.
Also Read – Keyword Difficulty Index – What is it's Relevance in Keyword Research
The AI tool is good enough to suggest relevant keywords based upon the top 10 search results. In this writerzen review, we can see the importance of auto content generator which will make the life of writer easy.
Keyword Research – Related Words
Keywords based on relevancy are provided.
Both competitor's keywords and opportunities keywords given (around 200).
General usage, volume, and relevance given.
Usage-based on the AI writer tool algorithm also suggested.
Click the + sign to add them to the recommended list of keywords to include in your content plan.
Some words automatically selected based on the algorithm rules.
Import a list of keywords from other sources.
Click on Save & Begin Writing.
WriterZen review also focuses on how to get all the keywords to implement in your content strategy.
Content Generator Tool
Import content from URL or file.
The Content Analysis Score shown with words, headings, paragraphs, and images.
For this example, I used the URL for which I'm trying to optimize.
The imported content was B grade.
Highlight the suggested keywords. To see how often they are used as per the algorithm.
Once the semantic keywords are added to the content, you can click on Done. If you are writing new content, Double-click on any suggested keyword to see its usage in the top search result.
The best content creator details are explained in this writerzen review. A green score is indicative of how well your content is optimized for seo.
Keyword Explorer – WriterZen Review
Provide complete information about the size of the market, the level of detailed competition of the keyword, and the user's search intent, so that keyword research is on the right track
Enter the main keyword, location, and language.
Click on Search.
Check the All in title, Clustering keywords option if required.
SERP Overview contains Rank, BL (Backlinks), RD (Referring Domains), UR (URL Rating), and DR (Domain Rating).
Search Volume for the last 12 months given.
CPC data consists of the following.
KD by Adwords
by Content
KD by Traffic
KD by Signal
Keywords Ideas has the following data
Keyword Ideas
Phrase Match
Having same terms
Also, search for
Insight
Automatically categorize different search intent to generate quality content ideas.
Find out what questions people ask, how they compare, keywords they also ask for, and their other intents with Ai powered filtering algo
KGR = Allintitle / SearchVol x ClassRatio
Whereas:
ClassRatio Ratio we developed to classify value for 3 different keywords level.
Level 1: Top value keywords – Low allintitle competition & high search volume
Allintitle < 100 & Search Vol >100: KGR range 0 – 30
Level 2: Medium value keywords – Low allintitle competition & low search volume
Allintitle < 100 & Search Vol < 100: KGR range 30 – 70
Level 3: High competition keywords – High allintitle competition
Allintitle > 100
Plagiarism Checker – WriterZen Review
You can use the plagiarism checker tool to see content scraped or written uniquely.
It is to make sure that search engines find your content different from other search results. Primarily, Google and Bing will not rank plagiarized content taken from other websites.
You can click the plagiarism check label at the bottom. My content already published on the web. The result shows 70 copied sentences. Quick view reports and Detailed reports are available.
When you click on a plagiarized paragraph, it will show the source.
Detailed reports will show the percentage of content that is not unique. It will also show the number of sources. This tool makes sure that you don't have duplicate content. My writerzen review gives details about this tool also.
Keyword Importer
Enter a list of keywords with location and language to start analyzing
Get in-depth keyword data for the last 12 months on searches, competing keywords, CPC.
Group of keywords based on the NLP algorithm and results from SERP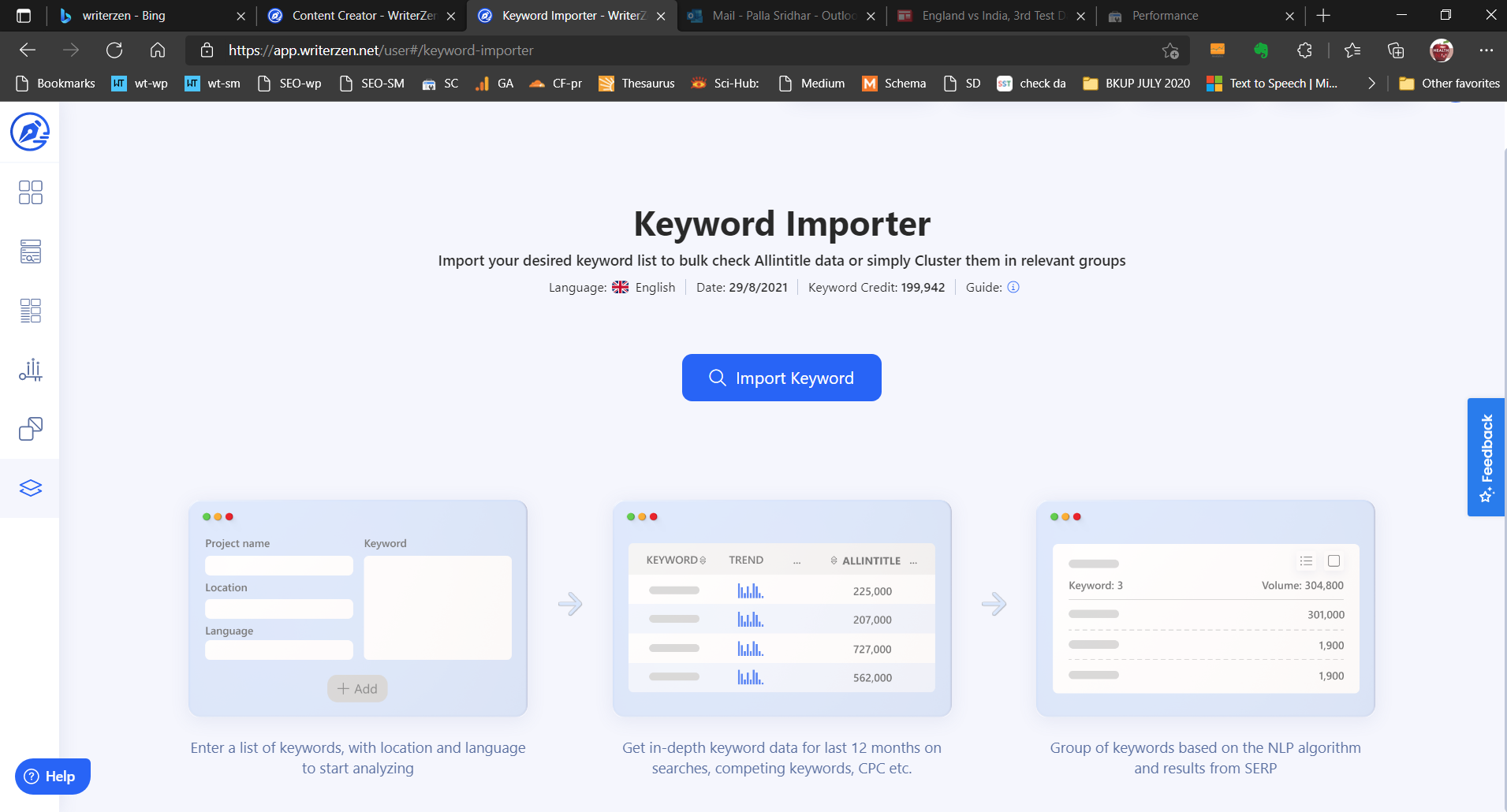 All In Title
By clicking on this function, our tool will check Allintitle data for all your keyword lists below to identify Golden Keyword Ratio: Keyword with low allintitle data yet high in volume.
Optimizing content for these keywords is a great way to gain quick organic traffic as they are easier to rank and will give you instant results.
Once activate the function, our system will take a short while to generate the data needed, sort the result within the table to look for KGR. Keyword credits used to use this tool.
It will give the following details for the list of keywords.
Volume
CPC
Word Count
ESKP
Keyword Trending
Trend
PPC Competition
It is better than Google's Keyword Planner tool, as CPC data is accurate and the interface is clean. Export the required data.
Keyword Data
Complete data list containing keywords database pulled from Google Keyword Planner & Google Keyword Suggest.
Clusters
We use Google SERP data to ensure keywords clustering is 100% accurate, reducing your research time up to 90%.
Cluster data will take some time. Credits required to use this functionality.
WriterZen Version 2.6
KEYWORD EXPLORER
Replace the domain backlinks to URL backlink
Hong Kong & Taiwan languages & location settings
CONTENT CREATOR
GPT-3 Keywords Optimization [beta 1]
GPT-3 Extract content summarization [beta 1]
Keywords Frequency Suggestion
Competitor Outline Data Optimization
Quick view options for users who would like to access plagiarism results for easier adjustment quickly