Google keyword planner in 2020 has a different interface. You can get exact keyword search volume with minor tips.
You can use Keyword Planner to identify approximate monthly searches, amount of competition between the advertisers bidding for the ads, low and high range of page bid in terms of CPC (Cost per click).
Keyword Planner is a free tool for bloggers and serious advertisers. This tool has multiple purpose. Business owners can build their Ad campaigns.
The keyword search volume is an useful metric to build your ad campaigns and target right topics. Discover new keywords related to your primary seed keyword. Get search volume and forecasts for your targeted keywords.
Related
In this post we are going to learn about google keyword planner usage and how to get exact keyword search volume.
How to Use Google Keyword Planner Free
This keyword research tool comes under the umbrella of Google Ads. Google Ads was previously known as Google Adwords.
The disadvantage with free keyword planner is that it only shows the range of avg. monthly searches.
To get exact keyword search volume you have to build Google Ads campaign and spend some budget.
But the below trick will help you get that minimum data, when you are creating a new Google Ads account.
Keyword Planner Free – How to Get Keyword Ideas
1. Research Keywords
2. Get statistics and traffic information of Keywords
3. Get Search Volume, Competition and CPC of keywords
For example, you may be looking to find additional keywords related to a seed keyword. Then you can get keyword ideas based upon the main keyword. This is useful to write up a new article with all these topical ideas. You can have a broad search of keywords based upon product or service, website, or landing page.
The above images are the latest of Google Keyword Planner interface as of Mar 2020. You can get avg. monthly searches for your related keywords and search volume trends.
How to Find New Keywords in 2019
To start with, you can enter seed keywords or phrases. If you want to find competitor keywords, you can enter their URL.
For example, when I entered some related keywords, I got 1489 keyword ideas.

The other SEO metrics I get are:
1. Avg. monthly searches
2. Competition
3. Ad Impression share
4. Top of page bid (low range)
5. Top of page bid (high range)
6. Account status
What are Avg. Monthly Searches
Average monthly searches ("Avg. monthly searches") shows the average number of searches for this keyword and its close variants based on the month range as well as the location and Search Network settings you selected. You can use this information to see how popular your keywords are during different times of the year.
What is Competition
"Competition" shows how competitive ad placement is for a keyword, specific to the location and Search Network targeting options that you've selected. The level of competition—low, medium, or high— is determined by the number of advertisers bidding on each keyword relative to all keywords across Google. If we don't have enough data, you'll see a dash (-).
What is Ad Impression Share
"Ad impression share" is the number of impressions you've received divided by the total number of searches for the location and network you're targeting that matched the keyword exactly in the last calendar month. This metric can help you identify potential opportunities this keyword has to get impressions and clicks. If we don't have enough data, you'll see a dash (-).
What is Page Bid
"Top of page bid (low range)" shows the lower range of what advertisers have historically paid for a keyword's top of page bid, based on your location and Search Network settings. The average CPC of your keywords may vary.

"Top of page bid (high range)" shows the higher range of what advertisers have historically paid for a keyword's top of page bid, based on your location and Search Network settings. The average CPC of your keywords may vary.
Source: https://ads.google.com/home/tools/keyword-planner/
You can also select location, language and search networks.
One can download keyword ideas as CSV report. You can also set the duration during which you want to see the traffic.
The option to find keywords related to a competitor page has shown me 494 keyword ideas. For better ranking and targeting your article, you can include them in your content campaign.
How to Get search volume and forecasts
This is mostly useful for Google Ads advertisers who want to bring more traffic to their website. If you are bidding for a particular keyword, you need to know an estimate of how many clicks you will get for a keyword.
For example, if you are targeting a set of keywords. Then you can enter them in the text box. This will display the following tabs.
1. Forecasts
2. Negative Keywords
3. Historical Metrics
The first one is very useful to smart bidders. For example, for my set of keywords the forecast is 5 clicks and 300 impressions for the next month of Feb, 2019. The approx. cost is $14 with an avg CPC of $2.59. You can also find details of each individual keyword.

The following details are got.
1. Max CPC
2. Clicks
3. Impressions
4. Cost
5. CTR
6. Avg. CPC
The historical metrics will show the same data as mentioned in the above topic. But this is for the last 12 months or pre-defined period.
This will help cross-check the forecasts and historical data.
How to get Accurate Avg. monthly Searches
As we have seen, we can use this tool to get an estimate of how much traffic a keyword brings to different websites. But this is only a range. It is not an accurate figure.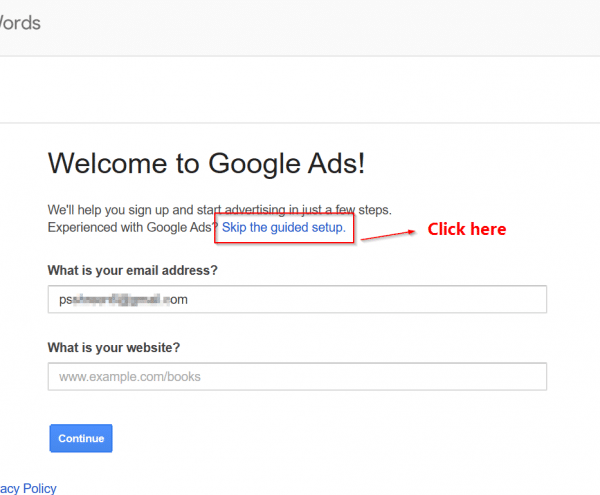 But during sign-up if you click on "Skip the guided setup" you will be able to use Keyword Planner for free.
If you want a definite figure, you should subscribe to Google Ads campaign with a minimum amount. So this incurs some money. The other alternate solution is to use "Keywords Everywhere" software for Chrome or Firefox. This can be installed as an extension or add-on.
How to get Exact Keyword Search Volume
[wps_box title="Update : Keywords Everywhere is now a premium tool." title_color="#000000″ box_color="#dd3333″ radius="0″] You need to pay a few bucks to increase the number of search data. With the free tool, you are able to search for a few keywords.
The price of 1,00,000 credits is $10. For full pricing you can see the details here.
Every time the extension gets volume data for a single keyword, one credit will be used up. A credit will be used up irrespective of whether the keyword has any search volume.
Source: https://keywordseverywhere.com/news.html#info-credits-link[/wps_box]
Let's check how this works in Firefox. The process is similar in Chrome also.
You first need to sign up with your email to get a free API key. Also the search volume will show details of English keywords. For other languages it will show as 0.
The API key is to be entered in Update settings page of the add-on. Once the add-on is installed and API key entered, restart Firefox browser.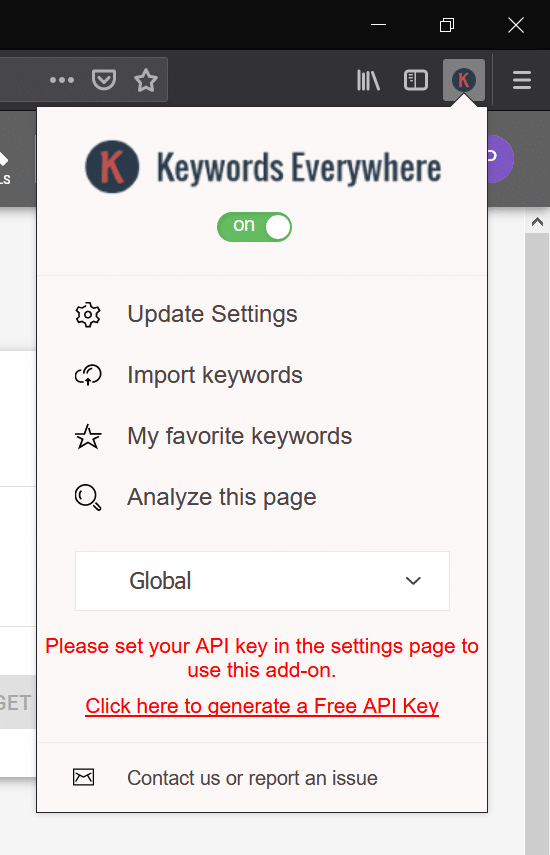 Using this software add-on you can get exact figure of the following.
1. Volume
2. CPC
3. Competition
This you can compare with SEO metrics given by Keyword Planner. Both are on the same page. So this should be easy to get an estimate of the accuracy.