LSI (Latent Semantic Indexing) Keywords are important to make your content good enough for rankings.
Analysis of top 10 results provide valuable information from SEO point of view.
LSI(Latent Semantic Indexing) Keywords are the keywords that are semantically related to your primary keyword. They are the synonyms or closely related words/phrases of your targeted primary keyword for the particular web page. Including LSI keywords with main keywords is SEO friendly as increase search relevancy.
Source: quora.com
Rank Brain algorithm and Knowledge graph have changed the old-tradition of stuffing keywords and on-page optimization results around topics, instead of keywords.
We need LSI to rank high in Google.
Words that are common in the top ten results make a good choice to include in your article.
It would take ton of time to do it manually.
Keyword Planner and UberSuggest are two tools which help in LSI Keyword research.
Programs are required that can analyze search results and bring out the common keywords.
Most of the times you use tools like Keyword Planner or a third-party tool to do keyword research.
This includes tools like SEMrush, Ahrefs, MajestSEO, UberSuggest, LSIGraph and many others. Many of these tools are popular and are oriented towards big companies where they can spend huge money on research.
The semantic keyword research tool should produce meaningful words that are related to the main topic of your content.
But for beginners and bloggers, we need a small tool where we can get the topical keywords to sprinkle in your content for better on-page optimization.
This strategy when mingled with the queries from Search Console will bring good results.
A new tool called WordGraph.io is in the introductory offer. It has a bonus price that is currently of $54/year.
What are the features?
Meaningful keyword composition
Keywords that are contextually similar
Simplify Sophisticated technologies
Readily available for SEO Community
Powered by Intent Matching Technology
Based on Artificial Intelligence (AI) algorithms
Relevant keywords against search intent
Precise but profitable keywords
Make your pages rank faster
Gain valuable insights into Competitor data
What WordGraph.io tool dashboard will show you?
You just need to buy the premium version and login to its dashboard.
It has two tabs. 1. Graph Analysis 2. Manage Projects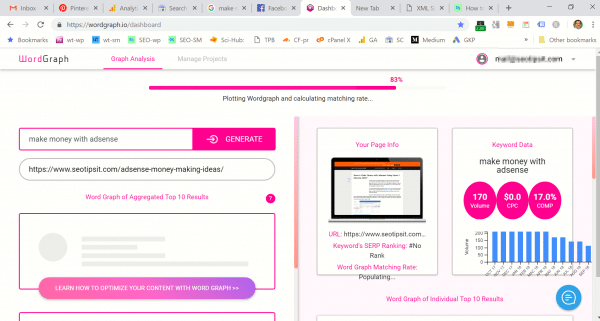 Use the first tab, to find relevant semantic keywords to your parent keyword and the URL you are targeting to rank for that keyword. It is an online tool which works in the cloud. Once you enter the required data, the tool will do related graph analysis and display "high priority" and "low priority" keywords.
The SEO Metric that Wordgraph.io will show you
"Match Rating Score" (MRS) which is a score to indicate, how many important keywords are there in your article compared to the top 10 rankings. It is indicated in percentage between 0 to 100%, 0 being the worst and 100 the best. This is shown immediately below the "Generate" box, which is a button to generate the graph analysis. An orange or green color indicates, that your content word rate is in par with the top #10 results.
Now you can use these keywords in your content, to make your rankings go higher.
There is also a "Learn how to optimize your content with word graph" link below the "Word Graph" score. This is a PDF guide which details the ins and outs of Word Graph. It will give a step-by-step guide to this word vector tool.
On the right-hand side, you would see a snapshot of your page details. It will show the following items.
URL
Keyword's SERP Ranking
Word Graph Matching Rate Score
Beside that is the "Keyword data". It will show metrics like the volume, CPC, competition to decide on targeting the parent keyword.
How Projects tab can be helpful to SEO Beginners?
Just below the graph analysis part, we have a button known as "Add & Track as project". So each parent keyword, along with the subjective URL is added as a project. For each one of it, you can give name and description details.
Under "Manage Projects" tab you can see all your projects you saved so far. This feature can be made use of by continuously adding more and more keywords for which a particular URL is ranking for. As time progresses, you will be able to evaluate their performance.
I chose to experiment with the word graph analysis data. So I chose a particular URL and the keywords its ranking for, as each individual project. In this way I can monitor their ranking and progress, after I add the semantic keywords the wordgraph.io tool will spit out.
Since this tool also shows the ranking results, it is an easy way of finding your SERP rank. Now you can spend less time, waiting for Wordgraph to analyze each time and populate data. This can be used as an optimization technique for better ranking of your keywords.
What are the Pros and Cons of Wordgraph.io?
The tool is currently under continuous development. Initially there were problems with payment process, links included and scrolling of content. It was also missing the guide details and on how to optimize the tool for better tracking.
In the initial stages, the MRS was the same for all the urls that were inserted into URL box below the keyword box. It would sometimes hang in the middle while analyzing the results. It also takes a bit of time process the top 10 search results data.
But most of these hiccups have been cleared now. Now the tool seems to work without a flaw. This is somewhat similar to the SEOPressor kind of tool or plugin used in WordPress. It would display the relevant semantic keywords that are to be inserted into the content, based upon your target keyword.
This tool also happens to be the same. I would appreciate if a similar WordPress plugin is brought out to simply content writing.
But the graph analysis takes a bit of time to show the results. So if you are using one url to target different keywords from query data using Search Console, it may take some time. To make a single project with all the ranking keywords for a particular article, it may take up 1 to 2 hours.