The importance of link earning and off-page SEO are still relevant in 2016. To prove my point, let's take the case-study of my current blogs. I will also show the importance of ranking #1 in Google.
For one of my technology sites, there are a total of 3,964 links to my site and inner pages. These links arise from 368 domains. This site gets around 50,000+ users per month. The site is 6 years old.
On the contrary, there is a SEO blog, which is little new, has 72 links. These all come from only 13 domains. This site only gets around 50+ users per month.
Read More: What is SEO in 2015 – A New Perspective!
Though 'organic traffic' depends on various other factors like CTR, bounce rate and avg. time on page, one of the key factors in 2016 is still "number of quality backlinks".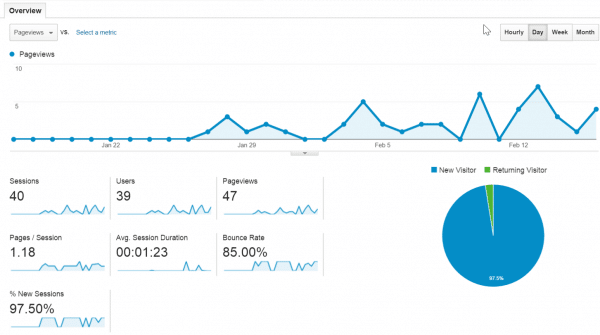 If you go to Google Search Console, you can easily find the queries for which you are ranked in search engines. Under Search Traffic > Search Analytics, you can find this information.
Read More: Keyword Research Using SEMrush – 3 Intuitive Ways To Improve On-Page SEO
As you have observed, for keywords ranking in #1 in Google search results, the CTR is between 60 to 80%. That means, for every 100 visitors that searched Google for this particular keyword (may not be exact match), 60 to 80 visitors are likely to click on the first result (if we take 'organic' listings alone).
Don't be too overwhelmed with this little case-study. This is just to show an example of how backlinks and #1 rank in Google can bring you lot of traffic. As the case may be, both are related, in addition to other factors.
What about BackLinks in 2016?
In 2004 and way beyond, Google algorithm solely depended on the number of links pointing to your page. For example, if pages A, B, C pointed to the same page D, then there was more chance of page D ranking well in Google.
But in 2011, with the intervention of Penguin, this all changed. The Google spam team for links, started denouncing "malicious" and "paid" links. Lot of sites lost ranking due to this algorithm update.
Now in 2016, you cannot practice 'unethical' means or 'black hat SEO' for getting links to your site. But you need to earn them. For example, if the links are placed as 'natural anchor text' within the content, these are called as 'editorial links'. These have high value and hard to earn.
Read More: [Case-Study] How to Improve Adsense Earnings and CPC and CTR in 2015 even if traffic is less than 1k per day
On the same side, if the links are coming from valuable sites like Wikipedia, popular media sites, authority sites than they will have more value.
The Cleanup Before Link Building
If you want your site traffic to sky-rise, just building backlinks is not sufficient. You have to have a strong on-page optimization scheme, before this works out. You can probably hire a good SEO expert to do things like this. Otherwise, if you can spend time, you can scan through the web to find the tips and techniques you need.
You have to take care of things like the following.
Page Loading Speed
Duplicate Content
User Experience
Post Layout
Font styles
Canonical Errors
Duplicate meta tags
Leverage Browser cache
Optimize images
Defer parsing of Javascript and CSS
You also need to have a strong site-architecture, to have the inbound links pass the juice to other pages. The best method for this process is to have a reverse silo. If the inbound links are pointing to a particular page, then it's better to have internal links from this main page. These can point to pages like the home page, category page, product page etc.
Another important factor, before you build links is to produce strong content. You should feel free to write, what is important in your niche. Your writing style doesn't matter much. You might have a difficult grammar background, but the flow is good enough.
Most of the traffic comes from long tail phrases. If you create copy-paste content from other blogs directly, you will be affected by the core-algorithm update of Jan, 2016. This has already taken care of the Panda update. So if there is no quality in your content, how many authority backlinks you build, you will not rank well in Google.
Even if you rank, people will leave your site immediately, which will cause a ripple on your on-site parameters. Soon, you will see a drop in ranking. So to be smart and rank consistently for a long-period, it is nice to have strong content that gets good comments and shareable.
How to Build Natural BackLinks in 2016 for Free?
So now let's come to the main point. I recently received a mail from a SEO company that boasts to do site audit of my health blog. It came out with some valid points and gave a list of deliverables that it'll produce as part of the SEO package. The link building part costs around $6 per hour. So if you have 10 hours per month it goes to $60.
So if you hire a SEO company or expert, you might get links. But we are not sure whether they are from 'spammy' background or 'low profile links'. Finally, you again have to do a link analysis, to find out whether the money you spent is worthy or not.
On other case, if you gradually build links using the ways mentioned below, you are the righteous owner of the whole process. You will be in a position to disavow any links, if any of them are found to be 'chicken'.
To acquire links effectively, you need to have relevant tier-1 links. These are direct links from sites pointing to your 'proposed' page directly without any re-directs or intervention. Relevancy is determined based on the sites in your niche and at the page level. If these sites have good domain authority ( which shows that it's a authority site in your niche) and good Moz rank, you are 80 to 90% less likely to be hit by penalties like Penguin 4.0 etc.
For a poor-man, Moz's Domain Authority (DA) is only an indicator. You need to build links for authority sites. This factor can be determined from various tools like SEM Rush, Ahrefs, Majestic etc. You can use these online-software to analyze the link quality you get from such authority sites. The important thing is to see how the Trust-Flow works around these links.
Guest blogging is still relevant for building references. It's not important that you drop a do-follow link in the content of your guest-post. It's more important, that you build authority with that guest post. Then Google automatically gives more value to your blog.
Quora like Q&A forums are great places to leave your links. Though you don't get direct value, but the amount of traffic that passes through these links is very effective. And who knows, in future, this trust flow also may trigger a signal in your backlink process.
Blogging communities are a great area, where links can gather reputation. People are inclined to share your article links in their blog, if they feel it belongs to their niche. In this way you are doing blog promotion, which will indirectly earn you some links.
Local SEO is on the growth now. So if you can do local business listings of your brand or persona, you are more likely to get reputable links pointing to your website. Though directory listings are on the decline, but local business directories can boost up your rankings.
Conclusion
These are some of the ways you can build and earn links in 2016. Most of the old methods become outdated as they become spammy. But if you gradually build links and promote content at a macro level, the chances of getting links naturally grows more. It's not important that you get 100 links in 1 day, but if you get 1 quality link in 10 days, it gives more authority to your blog.
It is like, if you build an image of your content, authority figures start recognizing it. For example, if the President knows you, you are more likely to become more popular. At the same time, if you are known by 10 dacoits, your blog will fall prey to 'black hat' techniques.
So always get links naturally and at the same time from authority sites. You will improve your off-page SEO strategy and people find easy to link to you.