Aha! Why do need to build quality backlinks?
I have written diamond cutting content and will wait and watch.
No, this is not the way for better ranking.
If this is the way, then you are on the wrong foot.
Google still shows importance to backlinks and without enough of them, you are behind the race.
To create quality backlinks you need innovative methods. Commenting on dofollow blogs is the old fashioned way and still powerful.
But when you outsource link building your SEO efforts are minimized. The top seo backlinks come naturally without spending a dime. Many of the automated blogs link to your post if they find valued content.
The best cheap methods to build high trust backlinks are –
1. Write Original and Useful Content
2. Use Competitor Data
3. Submit to Blog directories
4. Find reliable SEO services
5. Build Guest Posts and Infographics
1. Original, Unique and Explosive Content
In order to get backlinks for a post targeted at a particular keyword, you need to focus on the content. Since user intent and experience are of paramount importance in 2018, the content should answer the query typed in the search engine. You should be able to find semantic keywords for your seed keyword and sprinkle them across your content.
But you should make sure that you don't include irrelevant keywords in the content. If you find any semantic keyword not relating to your article, just leave it. You are not required to include all of them in your post. Only using 3 to 4 will be enough.
When your content is so powerful and enriching, naive and simple bloggers feel that your content is of expertise value. That should also the case be. Then they include the url of your post in their blog. This is one of the natural way to get backlinks.
2. Competitor Data as the Sword
As you know, there are competitors to your blog. This data can be seen in SEO tools like SEMrush, Ahrefs, MajesticSEO etc. Their cost is not cheap and you have to pay a premum price to get access. In these tools, they provide options to find "who your competitors" are.
Once you find the top most competitor who is having similar keywords as those of you, you should dwelve deep into their backlink data. For example, a competitor may be targeting the same keyword in which you are also ranking. Then when you find all the websites links to the competitor post, you can make use of those site posts to include backlinks.
3. Link building Directories as the Saviour
One of the best link building techniques include submitting your blog to directories. Though this strategy has become outdated in 2018, you still have some good directories which give you good search engine backlinks.
For each country like US, UK, CANADA etc, you have local listing blog directories and some of them normal.
For example, if you take US listing of blog directories, this list should be useful.
entireweb.com
bizsugar.com
bookmark4you.com
gigablast.com
exactseek.com
secretsearchenginelabs.com
viesearch.com
somuch.com
jayde.com
usalistingdirectory.com
linkcentre.com
Some of them require registration using email and other data. Then you need to fill some forms with your blog data. Others can be used to directly submit your website url.
If you can use the following keywords –
how to submit to blogging directories
free us directory for blogs
you can find some more blog directories to get more high authority backlinks.
4. Outsource to SEO Link Building Services
One of the best ways is to buy high quality backlinks. Instead of doing lot of research on finding the right website to build your links, you can part your efforts to link building services.
Though this not that of a white hat technique to create backlinks for seo, many of the big and small companies follow this strategy. This is part of off-site SEO where you build links by contacting the owners of websites and asking them to share their post or link to it.
Some of the best SEO services for these paid backlinks are –
highervisibility.com
topseos.com
seogorillas.com
exaalgia.com
epikso.com
expertvillagemedia.com
canbayinc.com
lyfemarketing.com
etrackmedia.com
augmatiks.com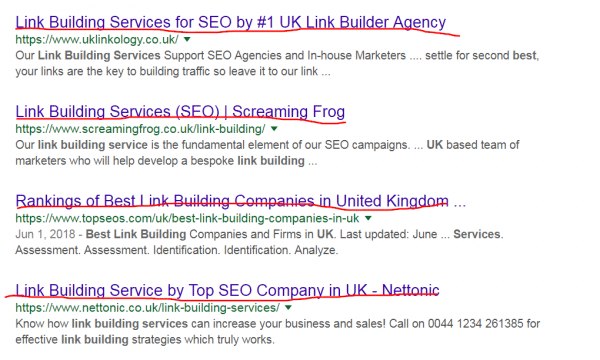 You can get edu, authority, one way backlinks in this way for a price. There are other types of link building agencies which may sometimes do shaddy practices. You have to be beware of false seo service companies.
Always using your intuition and check google, before you accept any link building agency. Ask them different questions about their practices. Pin them whether they are going to get you #1 ranking for specific keywords. Wait for 3 to 4 months. Still if you don't see any improvement in your rankings, shift to another SEO service.
5.  Real Pleasant Way
The last and important seo link building strategy is to write guest posts and submit infographics to different sites. These days many of the authoritative sites are not accepting guest posts. Even if they are, it takes a lot of time to get an answer from them.
So based on domain and page ratings, find small blogs where you can guest post. With a gentle voice email message, ask them whether you can post a guest post with a dofollow link to your website. Many of the small bloggers who are looking for free content will accept them.
Make sure the post is labelled as guest post, as otherwise the links in these kind of posts may not get seo weightage.
In the same fashion you can build infographics. These are graphic images of process, ideas, top 5 list, topics, data analysis pointing to particular niche. When you add a website url at the end of this post, you are asking other blogs to link to them.
Conclusion
These are cheapest methods of building high quality backlinks with little effort. To buy quality backlinks sometimes you need to pay a price. Its not advisable to use link building software as those will spit out the wrong ways. Always try to follow white hat link building practices to generate the best possible back support for your blog.
If you like this post, please comment in the section below. Also kindly share them among your friends.