The most common mistake by beginner bloggers is to use to Blogger as a CMS platform. WordPress is the popular content platform to post your articles.
Are you doing these 5 blogging mistakes in 2020?
If you want to start a blog, then there are lot of tutorial on the internet. My name is Palla and I'm going to tell you the secrets of blogging business.
In 2008, I launched a simple blog on Technology which sold for $1400 after 3 years. Not a big amount.
Related Articles:
In 2020, the situation is different. Mobile Internet has taken over Deskop in terms of traffic and connectivity.
Your blog should be AMP (Accelerated Mobile Pages) compatible to make your pages load quickly on mobile.
In this post we are going to learn the 5 mistakes that many bloggers do when they are starters. These are based upon my own experience.
Doing Too much SEO
I see that many of the bloggers are ignorant of the standard principles of search engines. Google has implemented new changes to its algorithm called BERT.
It is more focused on relevance to the query. If the search result does not answer the query, it is not treated as a popular article.
People still believe old SEO tactics of meta tags and PBN link building. They think that if you publish low quality 500 articles on a blog, it will rank well.
On the other side, bloggers madly buy subscriptions to seo tools like Ahrefs, SEMrush, SpyFu, Long Tail Pro etc cheaply from internet marketers.
Related:
That does not work that way in 2020! You need to understand the key concepts of SEO in Google's way. If you are targeting Bing, Yandex, Baidu etc, you need to do SEO in an alternate path.
Final Advice: Don't madly rush at search engine optimization with irrelevant and cost-free techniques.
Finding the Right Niche
I made this mistake when I started blogging in 2008. I did not know that I had to choose a micro niche compared to a broader niche if you are a single and beginning blogger.
Since in 2 to 3 word keyword phrases, you will compete with bigger brands, you are likely to lose the ranking to them in 2020.
Also many bloggers start blogging on niches that they have no expertise or comfortable with. This brings in writer's block or low-cheap content.
By spending $5 at Fiverr, you can get many articles. But they are not worth it.
Final Advice

: Choose a Niche Wisely which you have experience and can write easily.
Selecting the Wrong Theme and Plugins
Even after choosing WordPress, many of the naïve bloggers fill it with tens of unnecessary plugins. Bloggers instead of hard-coding functionality use lot of plugins for simplicity.
Also, they choose free themes than branded and customized ones. They are reluctant to spend money on a developer who can give a good theme and code. This inflicts wounds on site elegance and functionality.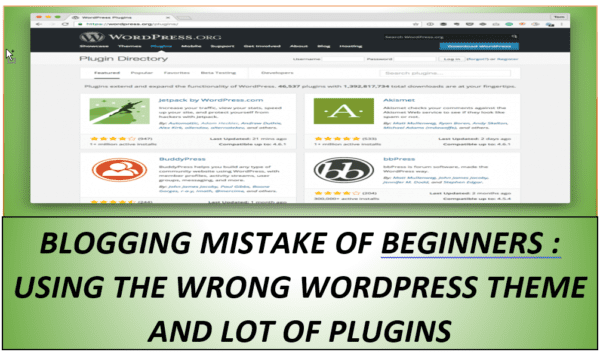 Final Advice

: Better choose a Theme framework like Genesis or Thesis and use less plugins.
Choosing a slow Host
One has to prioritize speed rather than looks and customization. If you have 10 advertisements, 3 email sign up forms, lot of social icons etc, you are losing the pace. You can look at my social profile or the author page to find one of my sites not using social icons at all. I also completely removed the logo also. This site is based on Microsoft Windows and Technology.
As you see this site loads in between 2 to 4 secs. This is along with the HTML5 ads. Most bloggers prefer a cheap host compared to costly cloud hosting. They miss good technical support, speed and up-time.
Final Advice

: Choosing a Host like SiteGround or DreamHost will improve speed of the site.
Not Building Links
I am still not able overcome this hurdle in 2020. As we know there are lot of ways to build links in early 2010. You can do commenting, write guest posts, build profile links, site directories etc. These were all easy in the infancy days of search engine optimization.
Bloggers could easily find opportunities to contact fellow blog members in a community and outreach them. Techniques like SkyScraper, Broken Link Building require time, effort, tools and money. You need a team to implement them. Or else, your content should be exceptional to attract natural links.
So many bloggers just write content for days and forget link building. Page Rank still works, according to Google. Without any domains linking to your site, you will not move forward in traffic or ranking.
Final Advise

: Take the help of good SEO Service to build links.

In my honest opinion, these 5 mistakes should be avoided as a blogging beginner. With medium to expert level blogging, you should be able to minimize the traction caused by these mistakes. Once you have a blog model, you can easily outpace your wrong-doings and get good traffic.