SEO Zen is a service-oriented software, which is in the form of a WordPress plugin. The creators behind this software-service-tool are Alex Cass, Alex Becker and a developer Mo Miah. The development and marketing team behind SEO Zen boasts that this tool can create a complete SEO site in 60 seconds. Before I reveal my experience with this tool, let's see, what the authors are propagandizing about the features of this tool. Read Related :
What is told on the SEO ZEN Sales Page?
It is clearly marked with big letters that SEO ZEN is a new technology that will create a perfect and unfair SEO penetrated siloed site that can exploit google's latest loop holes. In the next paragraph, they mention the following 3 important features of this tool.
Create unique content and video
Monetize your website
Find high PR links
This is all possible within 1 minute. So what they are promising is that you can blindly create an unique SEO siloed article that can rank well in GOOGLE SERPS in 60 seconds. The advertisement also says that we are going to receive some bonuses with the purchase of SEO ZEN. What are those bonuses? We shall see them later… Read Related :
How did I come to know about SEO ZEN?
One fine morning, which was probably Oct 3rd, 2013, I was checking mails in my Gmail inbox. One interesting mail from Peter Garety caught my eye.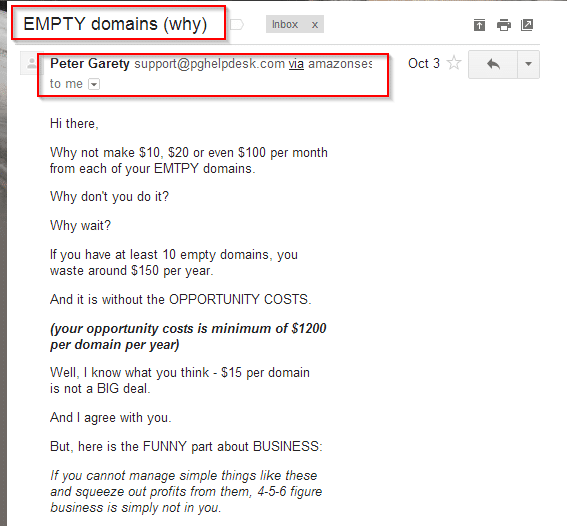 The summary of the mail was that I can make little money with empty domains. Since I was already having 5-6 empty domains, this offer looked lucrative to me. Since I was in a hurry to office and had some faith in the author, I immediately bought the software for $47 (unlimited sites) which was on discount at that time. The real struggle started from then onwards.
What did I get from SEO ZEN seller team?
The product was to be downloaded from JVZoo.com e-commerce website. Though I purchased some products from this retailer earlier, I didn't have much faith in this company. Mainly because this was not offering much support for REFUND transactions. But I didn't have much problem downloading SEO ZEN tool and uploading to one of my sites. I got a WordPress plugin as part of the deal. But as I said there were some bonuses with this purchase deal. The 4 bonuses advertised on the SEO ZEN marketing site are :
The full State of the SERPs address.
A full business training webinar and a full SEO backlinking webinar.
Another product by the source-wave team called SEO Omega.
2 surprise gifts of their latest best-selling products.
The first two bonuses are nothing, but full of marketing blah-blah. Also when you download the software you are also asked to buy other products. There are couple of videos which explain about this hyped softwares. The third bonus was not delivered immediately. I had to mail the author to get this bonus. 
What about the Refund Request?
I immediately mailed the author for a refund of my purchase. But this is one of the replies from the support team of the author.
So I was denied the refund which was promised by their 30-day guarantee on their sales page. What I was informed was to look at the last part of their sales page, which can be seen below.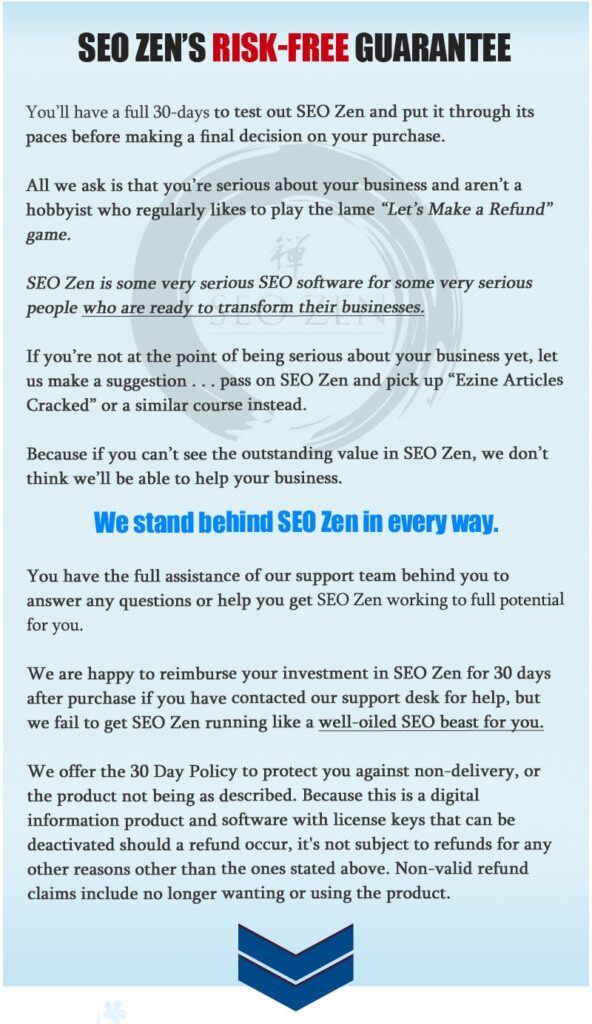 The refund policy headline states that it's RISK-FREE guarantee. But as you have seen in my case, it's not totally risk-free. They say that the refund will be only given in the case of non-delivery of the product or the product not being as described.
My Conclusion
I tried to test the software with one of my sites. But the spinner software is not working. When I contacted the SEO ZEN support team they said that you have to purchase for the paid API. Only free API support will be given. Next I tried the PR links software and it says that we need a proxy if we want to use that service many number of times.
So you have to pay some more bucks for the VPN or proxy service. Also the product now costs $127 (unlimited versions). The only thing you will be able to achieve with this software is add some affiliate links and make a silo structure for your site.
Also, there is no guarantee that this tool will work wonders with Google rankings. With changing algorithm scenario of Google each day, its difficult that this tool alone will help you dominate the search rankings. You cannot produce unique content by using this software alone.
So I recommend not to buy this software unless you are completely confident that this tool works as intended. You can check with the other buyers or reviewers who have tested this tool. If you are still un-sure, you can buy from my affiliate link, which will be provided shortly in the review page above and test it yourself.