Scalenut is the new AI content management tool in the SEO market. Marketers are well informed of data driven decisions before hand. But to spread the word on that strategy we need the right words and content review.
Story-telling is an art. Whether it's for business goals or blog posts or social media, you need the right sentence and content to reach your target audience. If that doesn't fit the mind and readability of users, then you pay the price in revenue goals.
Scalenut has two main forms of content writing using an AI assistant driven approach.
SEO Assistant – Long form AI + SEO Intelligence
AI CopyWriter – Short form content powered by AI
In both these cases, putting ideas into a content plan can take hours to days. But with the write AI tool, you can make content writing an easy job.
Scalenut – Popular Features
Create SEO focused content outlines
Keep the ideas flowing
Create long form content using AI
Produce High Quality content
Top Content Professionals at your Service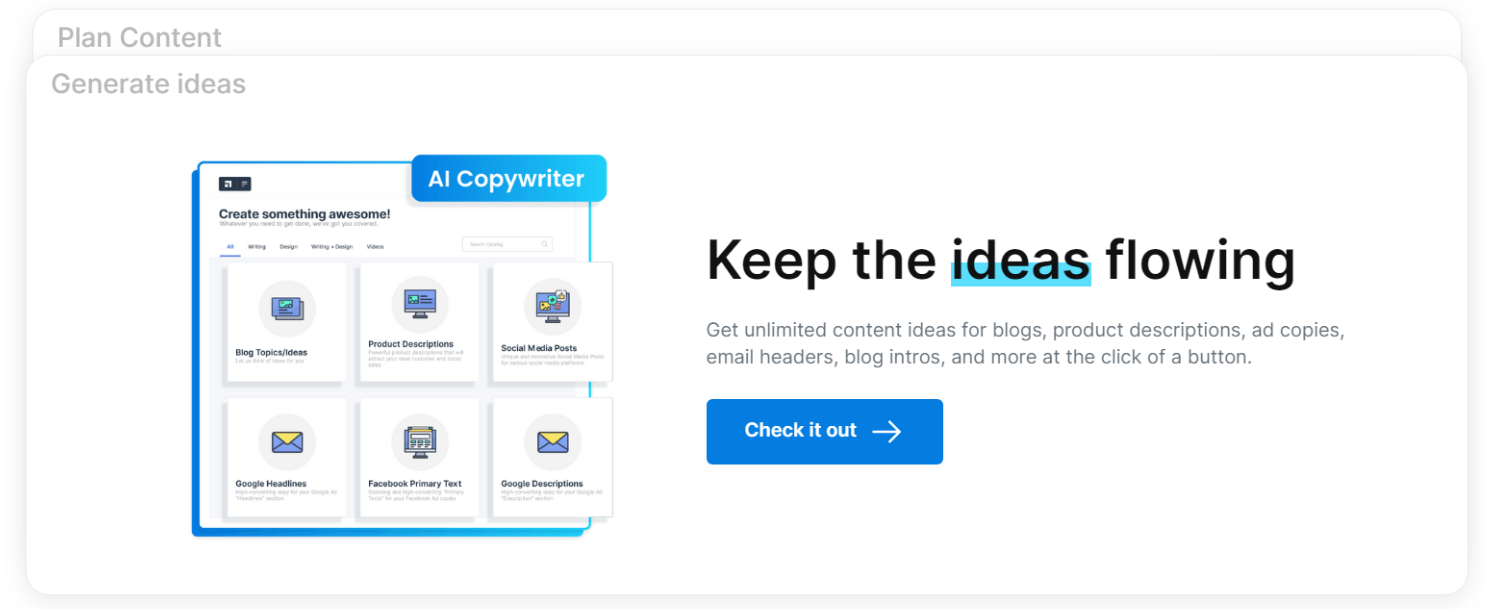 Scalenut Long form AI
Enter the Scalenut dashboard with your login credentials.
Click SEO Assistant on the left-side.
Enter the primary keyword and target country. Create reports.
Two options are available – 1. Report 2. Editor
Report option gives the following

Overview
NLP Terms
Competition
Themes
Questions
Citations

Edition option has the following

Write with AI
AI Connectors
AI Operators
Templates
NLP Terms
Competition
Questions
Content Grade
Word Count
Readability

All Reports will give the content and report for your primary keyword articles.
SEO Assistant
Report
Top Page Statistics
It will show the analysis of top 30 results in 3 columns.
The first column is important which gives the top 10 results overview.
Grade
H Tags
Readability
Images
Avg. Word Count
NLP Terms
The list will have the following metrics against each keyword.
Importance
Occurrence frequency
Heading Presence
You can make use of these NLP terms provided by Scalenut algorithms. These are more like the semantic keywords or related words to be included in your content. Since these terms are already used by the top 30 URLs, you are likely to benefit more in search engine results.
Competition
It gives the following factors.
Word count
Readability
Content Grade
Images
Headings
Scalenut checks the content of the top URLs and assigns a score indicating the completeness of a keyword. The five above metrics are an indication of what should be written in your content and what to include.
Other Features
Themes give the common phrases which search engines get interested in and are related to your main keyword. Writing content on these topics should improve your chances of ranking better.
Common questions from Reddit, Quora, Google and AI suggestions by Scalenut can also be seen.
The commonly cited URLs in the top search results are mentioned. Scalenut says that your PageRank increases if you cite these sources in your article. Since most of the top URLs mention this URL, it means it is an authentic source to cite.
Editor
SEO Content optimization can be done by using the right NLP terms. The Editor feature helps to write your blog post directly with formatting options. Then, you can copy and paste in Word if you have problems exporting to your favorite content management system.
NLP Usage
Click to add the NLP terms. View the NLP term usage in SERPs. Generate content for this term. This is where Scalenut differs from regular content writing. Since you can add content automatically based on the search term and AI tool, it becomes easy to improvise.
NLP, Competition and Questions are seen on the right hand side.
Templates AI Features
Templates are another bonafide feature of this AI content writing tool. The following types of topics and content can be created using the AI feature.
Blog Title Generator
Meta Description
Introduction Paragraph
Heading to a Paragraph
Conclusion Paragraph
Before After Bridge
Attention Interest Desire Action
Problem Agitate Solution
Simplify a Sentence
Answer a Question
First Person to Third Person Converter
Answer a Question in Bullet Points
Active to Passive Converter
Passive to Active Converter
Most of these AI features require some input from the content creator. These include fields like brands, description, keyword phrases, secondary keywords, sentences and many others. To get an optimized content, you need to provide more genuine and unique content which satisfies the primary topic.
Write with AI
It is one of the easiest to implement and fast writing tools for long form content. You just have to provide some keyword phrases and the AI algorithm will provide you with required content.
In an appropriate context, you need to provide more input phrases and sentences on the topic and heading you would like to present. Then the AI tool can extend the functionality to fill the remaining paragraph.
You can extend this functionality to unlimited paragraphs. But it also has a limitation. Sometimes, after writing some content the AI tool is also out of ideas. Then you need to input your own creativity.
This works when you are faced with writer's block. It will fill the voids. But it also has its cons. The content provided may be duplicate and may not be reliable. Though it may be grammarly correct, it doesn't' substitute for good content writing. After all, it's an AI tool. You just have to use it along with your brains.
AI Connectors
The above AI writing tool is supported by adding prepositions and exclamatory sentences to add depth to your sentences. These are
Addition
Contrast
Sequence
Condition
Result
Summary
In each category there are a lot of choices to add the right recipe to your style of writing.
AI Operators
These are additional standard schemas that can be added to your article or business writing. How-Tos, FAQs, Quiz Questions, Q&A pages need the right questions and answers. The following are available.
Questions about the content
Topics about the content
Outline about the content
Summarize the content
Conclude the content
Finally, you can save the content as PDF and HTML. If you find any corrections, undo and redo operations are also available.