In 2019, the high paying affiliate programs are difficult to sell. This is due to the fact, that the number of bloggers are increasing day by day and readers are becoming more aware.
By becoming a SEMrush affiliate, you can earn 40% recurring commission for subscription sales. The following is the link to join this top affiliate program with high payout. https://www.berush.com/en/
BeRush is the website where you can register for this high commission affiliate product.
What is the Advantage of using SEMrush in 2019
SEO tools like SEMrush not only take bloggers to the next level, but can improve their online income. There is no big secret in earning methods of that potential.
Read Related :
Affiliate Marketing!
If you can write a good review on the product you believe, subscribers will definitely be inclined to buy your product.
I don't want to fool my fellow bloggers saying that SEMrush alone will guarantee you #1 rankings in Google. But if used properly, you can reap rich dividends from this tool.
SEO has changed since the Page Rank Algorithm
The trend has shifted from blogging to social network circles. Visitors used to comment on niche blogs in hundreds within a week, but this has reduced drastically.
So if you want to make money from the web, you need to invest, just like the big brands. But SMBs, small-time bloggers, beginners, and college students are at a disadvantage.
Earlier in 2004, it was just enough to stuff keywords in your content and you could rank easily in the top ten rankings. But Google has evolved lately and made adjustments to its algorithm to find content and link spam.
In order to increase your finances, it's best to follow some GOOD SEO practices. Though we cannot say that what is white-hat today, could become black-hat tomorrow.
For example, guest blogging was a major source of creating backlinks and popularity for bloggers in 2013 and 2014. But that was soon becoming a spammy technique and Google had to shut it down.
Read Related :
What are the features of BeRush Affiliate Program
This is a partnership based on revenue sharing where you get commission, when you drive traffic to semrush websites. When a blog visitor clicks on the affiliate link created in BeRush, he is directed to the corresponding page. If he completes the purchase, the affiliate gets commission for every SEMrush subscription they purchase.
There are different promo materials in 5 languages. This top affiliate program also provides tracking, reporting, prompt monthly payments and excellent customer support.
Affiliates can earn money online from different SEMrush subscription plans of Pro, Guru, Business.
How to become an Affiliate of SEMrush
First you need to register at the site mentioned here – https://www.berush.com/en/register/
Login to your account, once it is activated.
You will be given a special reference ID for your affiliate account.
It is important you include this REF ID in all your links that re-direct to SEMrush product or sales page.
This helps SEMrush to count visits, sign ups, sales and all the statistics that you see in your profile.
There also lot of banners in different languages.
 For each promo material you either get a link or HTML code. Under each banner, includes your reference number, so all you have to do is pick the one, that you like the most and simply copy/paste it to your website.
What is the Advantage of being a SEMrush Affiliate
You get a personal account when you join BeRush.  There are different promo materials like banners and links. You can  observe how your reference links are performing. These include how many visits, signups sales and rebills are made to SEMrush through your reference link.
You can also see your earnings balance and how much money you made both in the past and in the present.
What are the restrictions in Advertising and Promoting
To first start earning through SEMrush Affiliate program, you should register your website. But Adult, gambling and coupon promoting websites are not allowed. You may not receive your commission if fraud of any kind, spamming and other unscrupulous practices are done.
For a complete list of restriction practices in selling this affiliate product, you can go through this link.
What is the SEMrush Affiliate Program Eligibility
Anyone with a blog or website can join this program.
But as mentioned before, websites that contain
pornography,
explicit language or content,
violence,
hate speech,
promote illegal activities,
gambling,
coupons,
bargains or discounts,
violate intellectual property rights or laws,
contain materials that are defamatory,
libelous, or disparaging or links
are not allowed to join this program.
You also have be minimum 18 years old.
If you don't have a website also you can promote your reference links. E-mail, post videos or promote SEMrush through social networks, such as Facebook, Twitter, LinkedIn, Instagram, Pinterest etc are all allowed.
The advantage with this affiliate program is you can earn decent commission by promoting this product across multiple websites. Different ways to earn through semrush affiliate marketing are mentioned below.
What is SEMrush?
It is an Internet Market Research tool which can help big brands to SMBs gain insights into their website data. You can do Organic Keyword Research, Advertising Research, PLA (Product Listing Ads) Research, Related Keyword Research and many more.
The SEMrush headquarters and office location. About 50 dedicated staff work to make things blend together
Reports will be generated on a regular basis and emailed to your account, so that you can view data within a wink.
It's NOT an automation tool or spam tool, just like other products found on WarriorForum or such marketing sites. This tool does keyword analysis, known for business intelligence and made a name in competitor analysis software.
You need not download this software and the price is based on subscription.
What is SEMrush Pricing
There are 3 types of recurring plans and 1 monthly plan.
Business ($399.95 /month)
Guru ($199.95 /month)
Pro ($99.95 /month)
Pro (1 month)
You can visit the following page for the complete details and comparison of prices.
What is SEMrush Free Trial
By default, SEMRush doesn't provide any Free trials. But if you search the net, there are various blogs which write reviews on this product. They also provide coupon codes using which you can get 14 to 15 day trials which are worth $150.
But there is a catch. You can apply 1 credit card with one account only. So if you are planning to use multiple times different codes with the same credit card it will not work out. | Subscribe to SEMrush Plans
5 Ways to Make Money from SEMRush
Affiliate Marketing
Writing simplistic reviews will fetch you money using this method. Customers who read your review and buy through your affiliate link will earn you some money. For this you need to write a good review about SEMRush.
Since there is lot of competition in affiliate marketing business, it will be more profitable if you write an honest review.
Audience will simply not buy a product if cut and paste content from the web. The reviews on the Internet are mostly paid, so it'll be easy for an intellectual customer to find out which one is paid and which is not.
So if you write a case-study or your experience with the product, it'll do well for your affiliate business.
You can write topics like the following.
How SEMRush Helped me reach the 1st position in Google?

How SEMrush Site Audit helped me make my website more profitable?
One example where a blogger made a proportionate income from SEMRush affiliate sales is Harsh Agarwal of ShoutMeLoud.com fame. He earned around $11,000 from SEMRush sales alone in 2014.
His blog categorizes to the SEO needs of a customer and he is one of the top blogger of India. Though a newbie blogger may not earn that much from SEMRush affiliate sales, one can take example of his hardwork.
Site Audit Reports
You can also make money with Site Audits. For example, Jane Sheeba of Problogginsuccess.com does a similar thing. There is a link under Tools section (on the left hand-side) that says Site Audit. You can click the "Add New Project" button to start the audit.
There will be 4 stages.
Start Campaign
Go Through Wizard
View and Fix Issues
Rerun Audit
By this way, you can analyze a client's site and give valuable SEO feedback on that site. For this purpose, you need to enter the following details.
Project Name
Domain
Max Pages Limit
Schedule Day
Notify Me
Exclude Checks
Once completed, click the button that says "Create Project and Start Audit". You can charge clients for this site audit. A typical site audit will look like this.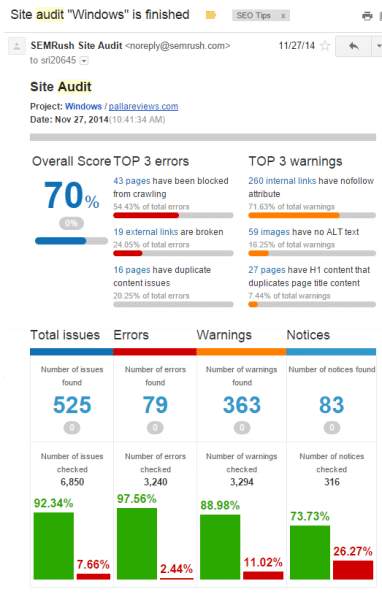 As you can see above, it gives an overall score for your site in percentage. The report mentions the top 3 errors and the top 3 warnings. When you click on the link, it'll take you to the detail report in SEMRush account.
Also, the number of errors, warnings and notices for your site are clearly mentioned.
A histogram showing the percentage of different issues also can be seen. More the green, more SEO friendly is you site.
Competitor Analysis
If you are working as an SEO consultant, this tool is of immense help to improve your financial margins. For your clients, you can tell them who their competitors are in various categories.
For example under Organic Research section, just enter your domain, keyword or URL and click on Search. You will get the organic competitors for google.com database.
You also get the competition level, common keywords, SE keywords, SE traffic, SE Traffic price and Ads keywords. When you click on any number, you will be given detailed keywords under that category.
This is very useful to the client who wants to know what competitors are targeting.
Similarly you can find competitors in Advertising and PLA.
BackLinks Data
You can use SEMRush as a profitable backlink analysis tool. This will help you to gain money in your off-site SEO efforts. Under the BackLinks section, click on Backlinks label.
For example, for one of my competitors I checked the backlinks. I found 17 total results with 5 referring domains. All of them are follow links. You can use your SEO tactics to make full utilization of this backlink analysis data.
Adwords Research
If you are working as a Google Adwords consultant, you can research for ad positions in this tool. Under Advertising Research > Positions, just enter one of your competitor domain name and click on "Search" button.
You will get different data like organic search, paid search, backlinks, organic keywords, ads keywords etc. Different information like top keywords, keyword position distribution, main competitors, competitive positioning map, ad copy position distribution can be got from this detailed report.
Using this data, you can bid for ads on Google Adwords and also suggest clients what to bid on.
Conclusion
You can see that bloggers targeting profitable niches can get relevant data from SEMrush. At the same time, using the above strategy they can also make money online.
Which marketing method is the best for profitable business? Did you try the FREE trial offered by SEMrush? What section of SEMrush is to be improved for better blogger business? Can blogs earn decent money from SEMrush affiliate sales? Please comment in the form below.